Music
Allison Faith Sulock is a classically-trained musician with two degrees in music and a passion for history, ethnomusicology, and different instruments.  
Upcoming dates:
                April 7 & 8  (Will sadly not be there (April 14-15, & April 21-22 due to working at Coachella)
                April 28th - May 20th! Saturdays and Sundays
                Co-composer of some original music used in the show.
Past dates:
               Danny Boy on hammered dulcimer + voice, Whiskey in the Jar on Irish whistle with an irish hard-shoe dance break at the end.
               Joined by other members of Sacred Fools Theater Company on voice, guitar, and dance.
We the People. A curated staged reading of new works theatrically exploring the social and political concerns facing our country today. 
              An original song, "Lullaby for the Future" on voice and guitar. Performed with Lynn Adriana.
Nerdy Renaissance Wedding.  Commisioned to play a renaissance/medieval wedding with "nerd" music.  
              Songs played by a duo on Hammered dulcimer, flute, recorder, violin, and guitar.
              Included music from Game of Thrones, Star Wars, Harry Potter, Lord of the Rings, Zelda, Super Mario, and more!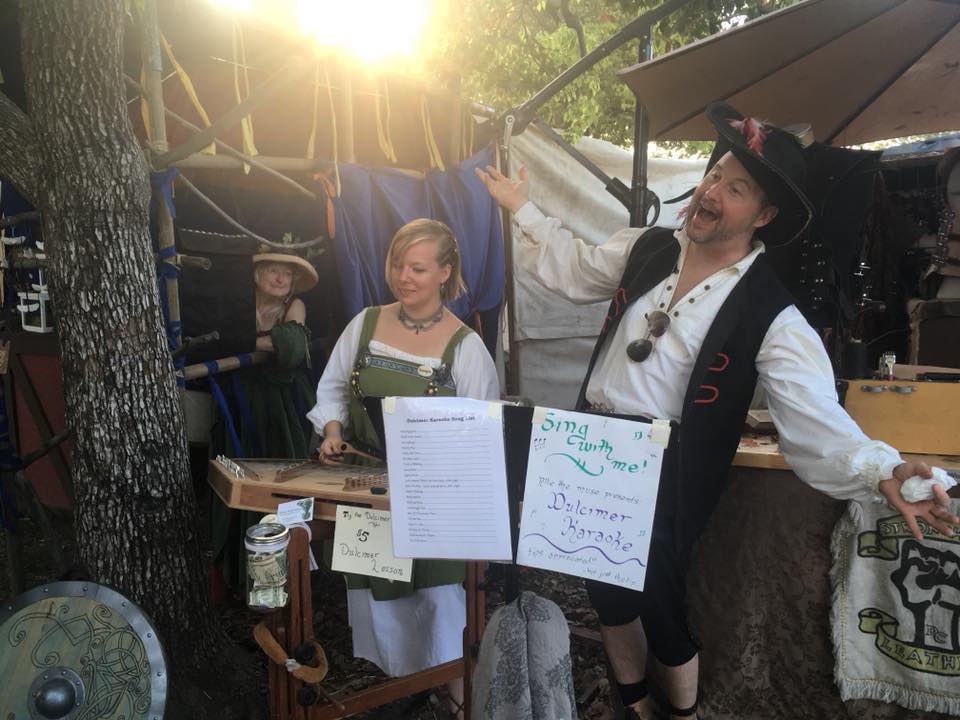 ---
Performance
Main instruments:
Hammered dulcimer, classical flute, recorder (soprano/alto), irish whistle/flute, percussion (concert and ethnic), an array of bamboo/wooden flutes of various types and styles, voice
Other instruments:
Ukelele, guitar, piano, mandolin, saxophone, etc 
 Most interesting/strangest instruments in the collection (so far):
Bass Gemshorn, Bombard, Shuttle Pipes (a version of smallpipes/bagpipes), Hammered Dulcimer
Other than performing with various wind ensembles, orchestras and jam/jazz bands, Allison has performed with the following and is always interested in finding new, interesting groups to perform with.
September Muse, a band that specializes in music of the celtic isles and the days of yore
Playn Fore Quarters, a medieval/renaissance dance band
One Cowbell Band, a quirky group playing the music of early america
Curious about the Bass Gemshorn? A fan of vikings?  Click here to download a Viking folk song played on the Bass Gemshorn.
---
Transcribing, Arranging, Composing
Allison can be contacted for any of the following:
Arranging music for specific performing groups or specific instruments
Transcribing music (notating music after listening to it)
Composing or writing music: with or without lyrics
See below for a transcription of "Ice and Fire," the main theme to the HBO series, Game of Thrones
---
Teaching
Degree in Music Education from Hartwick College.
Allison has experience in: Orchestration, Conducting, Individual lessons, K-12 general music, K-12 Choir and Band, Music Direction, leading general Summer Camp classes, leading Music-based summer camp classes.  
Teaching Philosophy:
Everyone is a student and a teacher their entire lives: We should never stop learning, and never stop teaching.  Show the world, especially your students, how to live with compassion, mindfulness, enthusiasm, passion, respect and love.  In order to do this, create a caring and stimulating atmosphere in the classroom and open the door to discovery, curiosity and learning.  Everything is connected, and as such, my musical teaching generally incorporates historical or cultural immersion, and includes lessons that can tie to what is being learned in another subject wherever possible.
---
If you would like to work with Allison on any musical projects, please use the contact page to get in touch!